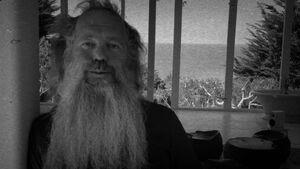 Rick Rubin is an American record producer and a major player in the American music industry. He helped establish Columbia Records, Def Jam Records, and American Recordings and has worked with hundreds of artists since the early 1980s including Run-DMC, AC/DC, Justin Timberlake, U2, Kanye West, and Lady Gaga.
Rubin was informed about The Avett Brothers after their 2007 album Emotionalism. He invited them to sign with his American Recordings label and to produce their next album in early 2008. The collaboration was announced publicly in July 2008.[1]
Rubin and The Avett Brothers have collaborated on 2009's I and Love and You which reached #16 on the US Billboard charts, 2012's and 2013's The Carpenter and Magpie and the Dandelion combined sessions, which reached #4 and #5 on the US Billboard charts respectively, and 2016's True Sadness.
Despite the band's success working with Rubin, many fans blame the band's evolution from a rougher "raw" sound to a polished produced sound on Rubin's involvement.
External links
Edit
References
Edit