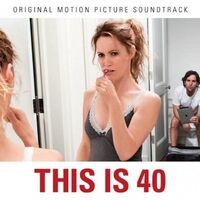 This page is a work-in-progress list of every television or movie appearance by The Avett Brothers' music.
This is 40
"Live and Die" is featured in a scene of the film during a backyard BBQ, and during the end credits. This is 40 is a 2012 comedy film written and directed by The Avett Brothers fan Judd Apatow. The song also appears on the film's soundtrack.
A Chef's Life
"Will You Return?" is the opening title theme for the PBS documentary cooking show A Chef's Life. The series follows chef Vivian Howard who returns to her hometown in North Carolina, also home to The Avett Brothers.
Friday Night Lights
"If It's the Beaches" was featured in the season 2 episode "Leave No One Behind" which aired on February 1, 2008. The song plays when Landry Clarke (Jesse Plemons) kisses Tyra Collette (Adrianne Palicki). The song was also included on the soundtrack album Friday Night Lights Vol. 2.

Men at Work
"I and Love and You" was featured on in "Pilot" which aired on May 24, 2012. The song closed the episode.

One Tree Hill
"I and Love and You" was featured in the 7th episode of the seventh season "I and Love and You" which aired on October 26, 2009.
Parenthood

World of Jenks
"Kick Drum Heart" was featured in the first episode of the second season "Live for Today, Pray for Tomorrow" which aired on MTV on March 4, 2013.
Love
"No Hard Feelings" plays at the end of the second episode of season 2 as the characters make amends, in a way. This show is produced by long time Avett brother fan Judd Apatow.
Other background appearances
Televised performances
Edit
Television commercials
Edit
American Express
"Hard Worker" is the song playing in a May 2013 American Express commercial titled "Making Small Huge".
Gap
Corrections? Additions?
Edit
This page is created by Avett Brother fans just like you. Click "Edit" to change, add, or remove content. You are encouraged to join in and edit this page!