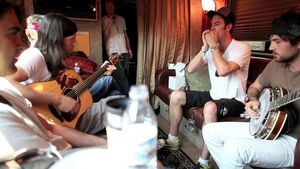 The following are songs The Avett Brothers appear in but did not write or arrange.
A Different Story [2008]Edit
After Paleface moved from New York to North Carolina, he and his wife helped The Avett Brothers record Four Thieves Gone: The Robbinsville Sessions and Emotionalism so he asked for them to appear on his 2008 independent album A Different Story.
The Show is on the Road [2009]Edit
After the success of A Different Story which landed him a deal with Ramseur Records Paleface asked Seth Avett, Bob Crawford and Joe Kwon to help him and his wife record their next album.
Jim Avett and Family [2010]Edit
Scott and Seth Avett appear on the 2010 album Jim Avett and Family with their father Jim Avett and sister Bonnie. The album contains 10 covers of traditional gospel songs and Seth and Scott appear in 8 of them.
The David Mayfield Parade [2010]Edit
Scott and Seth Avett appear on the 2010 self-titled album by The David Mayfield Parade as background instrumentalists and vocalists on "I Just Might Pray," "Noreen," and "Breath of Love."
Fixin' to Die [2011]Edit
The Avett Brothers produced the 2011 G. Love & Special Sauce album Fixin' to Die. They appear in the song and music video for "Milk and Sugar". Seth's vocal appear in "You've Got to Die" and Scott's vocals appear on "Just Fine".