Four Thieves Gone: The Robbinsville Sessions is the fourth studio album by The Avett Brothers. It was released on February 6, 2006 on the Ramseur Records label. It contains 17 listed songs and 2 hidden tracks and runs for 72 minutes.
On November 20, 2012 the album was made available as a limited-run LP record on 3 vinyls. On December 31, 2013 500 copies of the vinyl in white were given to New Years Eve VIP attendees. Both editions of the vinyl contain a bonus record containing 6 additional songs.
Track Listing
Edit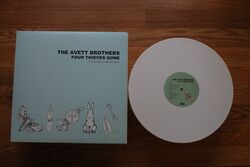 Limited-run vinyl extras
Production
Edit
For 10 days in 2005 The Avett Brothers rented a lake house in Robbinsville, North Carolina and recorded 31 songs, including five songs written by friend and collaborator Paleface and one, "Honey Can I Count on You", written by Ian Thomas. 17 of the songs (including one written by Paleface, "Dancing Daze") made the album.
Album credits
External links
Edit